Olá! I'm Rafa and I will guide you to learn Portuguese quickly!
You may have come to this site because you want to learn Portuguese.
Or you may be searching for a specific topic relating to Portuguese culture or perhaps just a useful Portuguese phrase.
Maybe you are looking for a Portuguese Teacher, or for advice about how to do, set up and expand your business in Brazil, Portugal, Angola or any other Portuguese speaking country.
You may also have come to this site because you realize that when you arrive in Portugal, Brazil, Angola, Mozambique, A Guiné, S. Tomé, Cape Verde, East Timor, Madeira or the Azores, you will need to speak the local language. You may also need to know about the people and their culture.
This site and the materials suggested here aim to teach you how to learn Portuguese, what to listen for, and what to say in Portuguese speaking countries, and to understand what Portuguese native speakers are saying to you. All this combined with useful tips to help you better understand the locals' culture too.
By using these ideas and by being aware of what to remember when you want to speak Portuguese, you will learn to control and manage everyday situations with such ease that the locals will be impressed with how well a foreigner is able to communicate with them.
With just a few words of Portuguese you will open the doors of communication and establish rapport.
In this site, your opinion is important. So you can vote and/or suggest a topic that you'd like to learn by clicking here. Now and then, I'll suggest 4 topics and the one that wins will be added to the site.
Did you know that you will only need to learn about 300 words to sustain a conversation? Obviously combined with a good method? Those Portuguese words and that method are here for you.
If you follow my recommendations you'll be learning each item in a way that you'll hardly forget again.
You have chosen the right way to make your visit go smoothly. Every technique, word or expression you learn relates to real situations in Portuguese speaking countries.
I know this site will change your mind about learning how to speak Portuguese and, armed with the confidence you will gain, you might choose to learn more and more. And, I'll be here looking forward to that day. I will be here to help you too!
By the way, if you sign up for my newsletter in the box on the top right hand column, I will be in touch with you with the hottest explanations about Portuguese.
...And...
A brand new book - The Language Lover's Guide To Learning Portuguese - is now available for you to guide you and help you understand and practice your Portuguese. This new creation has been written in cooperation with Russell Walker from learningportuguese.co.uk. Please click on the image and check it out.
And obviously, it's always good to hear from you as well. Your messages are my fuel...
Your opinion and ideas about how you learn Portuguese are really important. So, please do not hesitate to contact me. I would love to know what you have to say.
Please click on the Navigation Bar buttons to become familiar with what you need to know, to learn Portuguese - the 3rd European language most spoken in the world.
Check out the dots on the map to visualize where in the world you can speak Portuguese.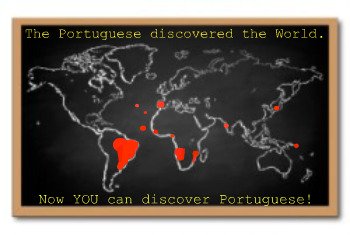 Muito obrigado! [Thank you very much!]
Rafa. x
---



Latest updates:
Sign Up for Free Portuguese Newsletter.
I am a highly qualified and experienced Portuguese teacher, with brilliant proven results and I am putting my teaching services available for you here. Find out how.
To know how to learn Portuguese, understand the way your brain works first. Learn about the psychological barriers that holds you back when you try to learn Portuguese.
The most important Portuguese words with which you can speak
Basic portuguese phrases you need to know to get by in a Portuguese speaking country or environment.
Here you'll learn European Portuguese - from the alphabet and pronunciation to the grammar rules.
Here you will find some interesting tips about the Portuguese culture.
Here you'll learn to speak Brazilian Portuguese - from the pronunciation and alphabet to the grammar rules and useful phrases.
Brazilian Culture is so rich. Find out how here.
Do you want to understand Portuguese Grammar? Here you'll learn it easily!
Here you can learn the Portuguese word order and how to build sentences.
In this page you will find a great deal of Portuguese language resources. Have a look here.
Online Portuguese to English Dictionary with hundreds of useful words and expressions.
Portuguese and Brazilian Portuguese recipes? Hummm... Just read this if you are not hungry, because if you do, you will!
Here you'll find the most recent updates of this site. Here I'll keep you posted. Don't worry!
This is one of many free Portuguese lessons - Here you'll learn how to transform English words into Portuguese words easily.
Here you can vote what you want me to write about next. Learn Portuguese free here.
If you'd like to contact me with any comments or suggestions, please do so here.
By knowing a little bit about myself and how I learn languages will inspire you to learn Portuguese with confidence.
I know what you need in order for you to run your Portuguese Business in Brazil, Angola, Portugal, Mozambique and any other Portuguese speaking country.
Disclaimer and Terms and Conditions - This site has been built in good faith.
Are you looking for useful Portuguese phrases you can use every day? This is the right place. Find out why!
Portuguese language translator - a tool youi might find useful.
The Treaty of Tordesillas - the treaty that determined where we'd speak Portuguese in the world. Find out here.
Here you'll understand how useful the portuguese personal Infinitive is and how to use it correctly.
Here you'll find online resources for Portuguese Learning. Get them now!
Overcome the mith of the Portuguese Present Subjunctive.
Learn the roll that Brazilian dance music plays. Find out here now!
Wondering how to speak Portuguese? It's easier than you may have thought! Find out how here, and make it easy!
Learn about the Brazilian Portuguese traditions here and how to behave with the Brazilians.
Would you like to learn some Brazilian Portuguese phrases that allows you to communicate with Brazilians? Here you have them!
Learn portuguese online free is the chance you have by reading the content of this site. I'm a Portuguese speaker and I've made it for you.
Portuguese adverbs are words you use to express intensity place, quantity and so on. Learn them now and start speaking eloquently!
Here you can learn Portuguese words by thematical categories (the family, the body, clothing, etc).
Learn once buying train tickets in Portuguese and use it forever. Find out how here.
Learn Portuguese language. The audio resources you need to do both start speaking and master your Portuguese today!
This page will tell you about Portuguese traditions. You'll be amazed by the role that culture plays when you practice or learn Portuguese.
Unsderstand how to use the Future Subjunctive in Portuguese. It's easy! Find out how here.
The subtle difference between Onde and Aonde in Portuguese.
Wondering how to use European Portuguese Pronouns? Find it out here.
Brazilian Portuguese Pronouns are easy to understand. Check it out.
Would you like to learn Portuguese online with videos? Watch and learn from these video-lessons now!
Privacy policy