Portuguese adverbs are words that allow you to say
what you really want to say.
Olá, tudo bem?!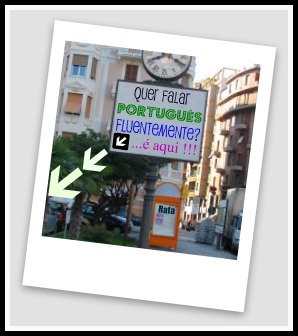 Today we are going to learn the main Portuguese adverbs. If you learn them, your Portuguese will be clearer and impressive!
But you may be wondering what an adverb is. Or perhaps what is the importance of such a word in a Portuguese phrase.
OK, let me explain.
If you don't now what an adverb is, very quickly I can tell you that it is a word which modifies
2. An adjective and sometimes
To explain the first case, say for instance, you have the phrase
"A Maria lê bem." - "Maria reads well".
The adverb (the word in bold) shows the manner in which Maria's reading is performed. She could read badly, or incorrectly, but the adverb "bem" tells us that the manner she reads is "well" - a good manner.
To explain the second case, for instance , in the examples
"O Manuel é notavelmente inteligente." - "Manuel is remarkably intelligent".
and
"A Sofia é muito bonita." - "Sofia is very beautiful.",
Here, the adverb "notavelmente" modifies the adjective "inteligente", and the other adverb "muito" modifies the adjective "bonita" by expressing the degree of intelligence and beauty, respectively.
Get it? Good!
To give you an example for the last case - when an adverb modifies another adverb - say for instance you have the phrase
"A Catarina fala muito depressa." - "Catarina speaks very quickly."
Here we can see that "muito" and "depressa" are two different adverbs, however "depressa" shows the manner Catarina speaks and "muito" expresses the degree of speed of her speech. She could speak not very quickly or even inadequately quickly, but the adverb tells us that she speaks very quickly.
You see? Easy! Wow, I love this!
In Portuguese, adverbs, are varied in their forms and context to express time, place, mode, quantity, intensity, affirmation, denial, doubt and exclusivity. There are also some "adverbial phrases" or, as the grammar call them, "adverbial locutions", which are no more than adverbs but expressed in more than one word, for instance "de vez em quando" - "now and again"
The following tables will give you the most common adverbs divided by the categories aforementioned, with the equivalent English translation for your guidance. So, let's read them carefully!
1. Adverbs that indicate TIME:
Portuguese

English

Hoje

Today

Ontem

Yesterday

Amanhã

Tomorrow

Cedo

Early

Tarde

Late

Agora

Now
Nowadays

Já

Now
Already

Já não

Not any more

Então

Then
So

Logo

Shortly
Immediately
Immediately after
Shortly later

Sempre *

Always
All the time
Constantly

Nunca

Never
Ever

Ainda

Still
Yet

Antes

Before

Dantes

Formerly
Those times before

Antigamente

Formerly
Those times before

Primeiro

Firstly
First of all

Enfim

Anyway
* The adverb "sempre" must always follow the verb (e.g. Ela quer sempre bolos" - "She always wants cakes".), because is you place the adverb before the verb (as you do in English), you'll be saying something idiomatically different in Portuguese.
You see, how useful and how important do you think these Portuguese adverbs are for your communication?
Very useful and very important, aren't they?
OK. Let's jump for the next category.
---
2. Adverbs that indicate PLACE:
Portuguese

English

Aqui

Here

Aí

There
Then (Brazilian Portuguese)

Alí

Over there

Cá

Here

Lá

Over there

Perto (de)

Near
Next to
Around the corner

Longe (de)

Far from

Dentro (de)

Inside

Fora (de)

Outside

Adiante (de)

Ahead

Atrás (de)

Behind
At the rear

Detrás (de)

Behind

Acima

Above

Abaixo

Below

Debaixo

Under
Underneath
These are also nice ones, aren't they?
Try to learn these first and then jump to the next ones.
---
3. Adverbs that indicate MODE or MANNER:
Portuguese

English

Bem

Well

Mal

Badly

Melhor

Better

Pior

Worse

Assim

So
This way
Therefore


Depressa

Quicly

Devagar

Slowly

Como

As
Like
The way like

Sobretudo

Above all

Principalmente

Mainly

Facilmente

Easily

Rapidamente

Quickly

Efetivamente

Actually
These ones are very useful ones, don't you think?
Many Portuguese adverbs end in "...mente" - whilst in English end in "...ly", e.g. "fluentemente" - "fluently".
Portuguese adverbs ending in "...mente" are formed from the feminine form of common adjectives, e.g. the adjective "rápido" (quick) in its feminine form is "rárida", so the correspondent Portuguese adverb is "rapidamente" (quickly).
Here is a challenge: How many adverbs ending in "...mente" can you make up from English words?
Have you found some? Write a logical text and use them.
In the meantime, if you are still curious about the next category, read on and let's find together the Portuguese adverbs that indicate quantity or intensity.
---
4. Adverbs that indicate QUANTITY OR INTENSITY:
Portuguese

English

Muito

Very
Much
Too
Too much

Pouco

Little

Mais

More
Plus

Menos

Less
Minus

Tanto

As much
Too much

Tão (de)

So much

Quanto (de)

As much

Quase (de)

Almost

Bastante

A lot
Too much
Enough

Demsiado (de)

Too much
Have you noticed, that in English you need more adverbs than in Portuguese to express yourself? With the same Portuguese adverb you can say things that in English you could not. Interesting hein...
---
5. Adverbs that indicate AFFIRMATION:
Portuguese

English

Sim

Yes

Certamente

Certainly
For sure

Decerto

certainly

Realmente

Really
These Portuguese adverbs are quite easy to guess or even to remember, aren't they?
---
6. Adverbs that indicate DENIAL:
Portuguese

English

Não

No
Don't

Nunca

Never
Ever

Nem

Neither
Nor

Jamais

Never ever
---
7. Adverbs that indicate DOUBT:
Portuguese

English

Talvez

Maybe
Perhaps
May

Se calhar

Maybe
Perhaps
May

Provavelmente

Probably
These are not too many. Actually, when we speak we talk more about real facts than doubting about situations. ;-)
The next category is...
8. Adverbs that indicate EXCLUSIVITY:
Portuguese

English

Só

Only
Just

Somente

Only
Just

Unicamente

Only
Just

Apenas

Only
Just

Senão

Otherwise
In this category of Portuguese adverbs we have indeed many ways to say the same thing.
OK. We almost at the end! Ooff! Ok, the last category is...
---
9. ADVERBIAL PHRASES OR LOCUTIONS:
Portuguese

English

Às escuras

In the dark

Às direitas

Right
Well




ÀS vezes

Sometimes

Ao acaso

Randomly

Em breve

Soon
Shorly

Em vão

In vain

À toa

Crazily

Por acaso

By chance

De baixo

Under

De lado

Beside

A sós

Alone

Com efeito

Effectively

De novo

Again
One more time

Em resumo

In conclusion

De vez em quando

From time to time
Now and then
Once in a blue moon

A cada passo

Often

Por alto

Roughly

À vontade

Comfortably

Com certeza

Surely
Certainty

Como deve ser

Properly

De facto (PT)
De fato (BR)

Actually

Actualmente

Nowadays
And this is it. Now you know what you have to do, right?
You got it! You have to write down sentences and stories using these words!
Até amanhã (See you tomorrow).
Rafa :-)
Go Back From Portuguese Adverbs To Portuguese Grammar.

Go Back To Home Page.