Do you want to learn Portuguese in London?
I will teach you how to learn quicker and more solidly!
Olá, como está?
If you want to learn Portuguese in London, you have come to the right site. In fact, here you will find all the information you need.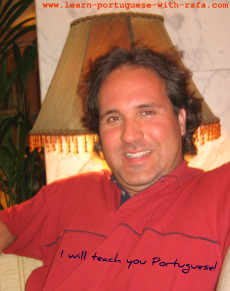 Here you can, not only, learn a lot from this site, but also learn Portuguese in London with me.
You may need to go abroad to any Portuguese speaking countries and you may need a quick preparation for that.
You may also need to know how to get by, get some knowledge of the culture, or learn some basic Portuguese.
Whatever the case is, and if you are in London, or elsewhere, and want to learn Portuguese in London with me why don't you drop me a line?
We can arrange one-to-one and/or group Portuguese lessons in central London, in-company lessons, on-line lessons, whatever suits you best.
Because languages and teaching languages are my passions, let me tell you a bit more about my professional profile:
Throughout the years I have accumulated a great deal of experience as a Teacher in (European and Brazilian) Portuguese.
I have studied in Portugal, Brazil and The United Kingdom (London). In Brazil I did part of my high school studies, in Portugal I completed a Bachelor's degree in Teaching and Education (University of Aveiro), and in London I did a Master's degree in Modern Foreign Languages Education (King's College London).
As you can imagine, I am very familiar with the duties of a Portuguese teacher, such as the assessment, planning and preparation of tailored course programmes; delivery of those courses; production, conducting, and marking of examinations; supervision of the examination process, and provision of advice to students (exams, interviews, etc.).
Since 2000, I have been teaching Portuguese for a wide range of blue-chip companies, government departments and educational organizations throughout London, UK.
All these organisations, as you may know, have a high number of students from both Europe and overseas. I have also supported the examination, selection, and admission processes, in interviews, in particular for corporate candidates.
Over ten years living in London-UK, I have taught at both the undergraduate and postgraduate levels.
My research interest in Modern Foreign Languages has been mostly in the field of adult professional and non-professional language learning.
My MA dissertation concentrates on this area, and I have also taught courses in Language Acquisition. (If you are not sure what "language learning" and "language acquisition" are, please click here).
Currently, besides language consultancy, I am a Lecturer of Portuguese for three famous universities in London. I teach MBA students for two of these universities.
Either in one-to-one or group lessons, I praise enjoyment, laugh and, above all, quick achievement.
Because I am based in London at the moment, you can start learning Portuguese in London with me from today or tomorrow.
I am proud to say I have the best references a Portuguese teacher in London can have, so, if you decide to learn Portuguese in London with me, I can assure you you will be in good hands.
So, come on, be in touch by filling in the form at the end of the page here, or you can also call me on +44 (0) 7946 08 45 10.
Até já! (Speak to you in a bit!)
Rafa