Olá! Tudo bem?



Como vai?

Rafa is back! Yes, after many ups and downs experienced in the last few months, I am back heading full stem ahead again to help you learn Portuguese even more!

And this return comes with great news!

IN about TWO HOURS, a new book - A Language Lover's Guide To Learning Portuguese will be available for you to do both, download it in a digital format or order it as a hard copy.

Indeed, I am excited to announce that it is finally ready!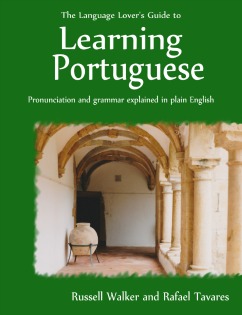 Yes, 326 pages (sim, trezentas e vinte e seis páginas) of pure and clear content and exercises for you.

This book will help you get those unclear concepts completely understood, and with the exercises provided, you will be able to use and increase your vocabulary and practice your grammar items with ease.

IN TWO HOURS the book will be available as a paperback or e-Book. The e-Book comes in ePub, Mobi, AZK, and PDF formats, and it will be available from other platforms like Amazon and Kindle as well.

The paperback edition is 189mm x 246mm, with a glossy full colour cover, and high quality black and white interior.

Russell Walker and I have been working hard on this new study companion which includes the entire contents of the pronunciation and grammar sections of both websites - www.learn-portuguese-with-rafa.com and www.learningportuguese.co.uk - expanded and updated, along with extra material covering for instance:

the differences between SER and ESTAR,
the Subjunctive tenses,
the Personal Infinitive,
extra vocabulary for different situations,
verb tables,
and lots, lots more.

It also contains over 500 exercises (with answers) written with full English translations in order for you to compare and contrast the way you say things in both English and Portuguese.

Isn't that Great?

Please keep watching your mailbox because in about 60 minutes, you will be receiving all the info you need to get your hands on this Language Lover's Guide to Learning Portuguese!

And obviously, a discount will be given.

And that's it for now. I cannot tell you anything more for now.

Expect me back in about a couple of hours! ;-)
Your friend,

Rafa x

PS 1: Questions about any topics? Success stories? Please let me know.

PS 2: Also, no matter how you do it, please spread the word... Tell your friends and family, colleagues at work, about Learn-Portuguese-with-Rafa.com!. This site grows purely by word-of-mouth, allowing many people like you to "improve their Portuguese", and attract people just like you, to deliver value towards success!

:-)

Tchau tchau!

-------- © Learn-Portuguese-With-Rafa.com - All rights reserved.--------
---